Real Weddings
You've bought all the wedding magazines, you've read all the Real Wedding articles, and maybe you feel as if you'd like brides to read about your wedding!
The photos are spectacular, everyone looks so happy, the poses are well chosen, would your wedding fit in a magazine?
I would like my wedding to feature in a magazine, but which one?
Copyright
Before you even consider putting your wedding into a magazine, you will
need to find out who owns the copyright to your wedding photographs.
Sometimes, photographers will let you have the copyright to your wedding photos. I met a photographer who would give us the copyright to our photos for £300, but some photographers retain the copyright.
All this means is that the photographers retain the right to publish your wedding photos in magazines themselves or in promotional materials.
This discussion is best had with your photographer as they will be able to explain exactly what it means for them.
And remember, Facebook retains the copyright to any photographs and videos uploaded to your Facebook albums.
The Magazines
The wedding magazines will only publish photos that either your photographer gives permission for, or photos which you own the copyright.
Perfect Wedding
A fantastic magazine filled with lots of interesting articles. However, the real wedding section of the magazine is actually quite small, compared to other magazines.
The each real wedding featured goes across two or three pages in the magazine and then they explain how other brides can achieve your style.
I really like that part of the real weddings, I think it'd be lovely if a bride sees something they like at your wedding and be able to copy it!
You and Your Wedding
This is one of the other magazines I like to get.
The real weddings part of Your and Your Wedding used your wedding with a lot of text.
Each real wedding starts with a stunning introduction page with a beautiful photo, and two pages all about the wedding.
It's a very graceful way to display your wedding, each wedding is presented beautifully.
Brides
Brides boasts being the UK's best selling bridal magazine, and subsequently, the real wedding spread is a lavish, full size (I couldn't find a handbag version when I went to WHSmiths) beautifully presented tribute to your wedding.
They write about how the 'look' was achieved in the 'I Do' Details. The photos look amazing and the details of the day are captured really well.
Wedding Ideas Magazine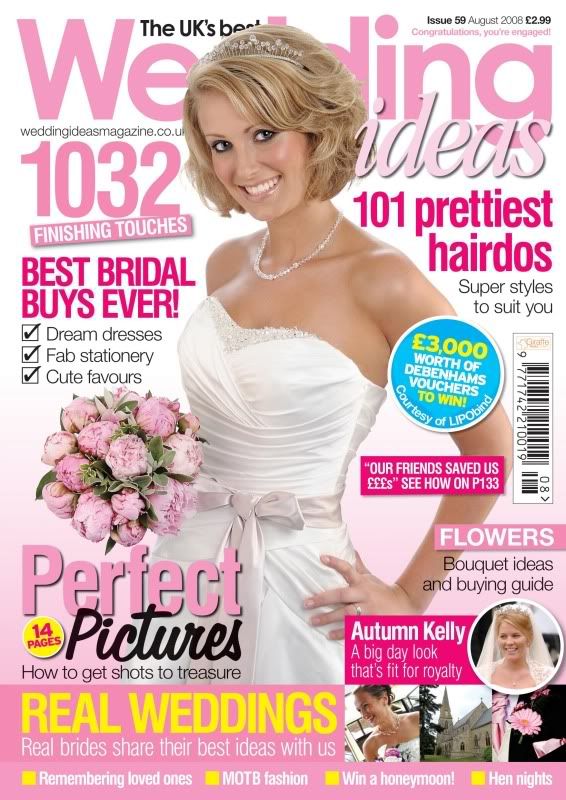 As frequent blog visitors will know, Wedding Ideas is my favourite magazine. It's a bright and cheerful magazine filled with lots of photo ideas.
The real weddings section is the most extensive of all the other wedding magazines stretching an amazing 75 pages! In the July edition, there were six different weddings featured, stretching across four or six pages.
They include top tips from brides and grooms, budget busting advice and details about how the couple met.
Would I Publish My Wedding?
I'm not sure. I think it would be a lovely memento to keep of your wedding in a magazine!
It would be nice to share my wedding with the public and share my money saving ideas, such as making a bunch of my own stationary and it would be nice to show other brides in the West Midlands my fantastic wedding venue.
Whatever you decide, look closely at the magazines and think about which one would present your wedding the day you'd like it to be remembered.